Head of The Creative Economic Agency, Triawan Munaf, and Regent of Kudus, Musthofa, has inaugurated RUS Animation Studio on Monday (7/3/16), an animated studio built in the neighborhood of Raden Umar Said Vocational High School, Kudus, Central Java.
In his speech, Triawan Munaf claimed that he is happy with the development of the world of animation education in Indonesia. He gave high appreciation to Djarum Foundation for building an animation studio with International standard facilities.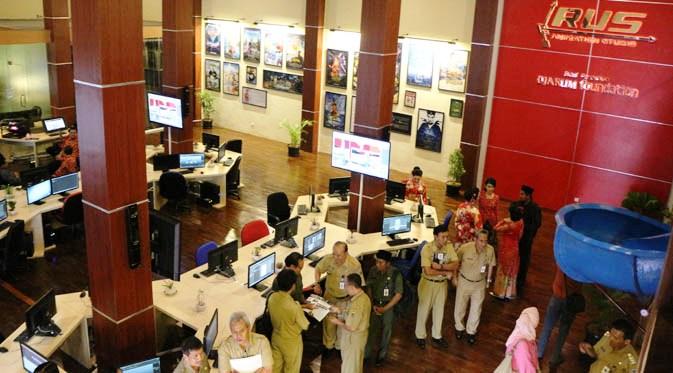 "I walked briefly in the studio room. What I've been seeing in various studios abroad, the open working station is comfortable and very informative, everything is here", said Triawan Munaf.
"So that later if these students work in studios abroad, they won't be surprised because they will not work in a rigid room like other Vocational High Schools (In Indonesia). They work exactly the way they would in famous foreign studios that I've visited, such as Pixar and Walt Disney", added the father of Sherina Munaf.
RUS Animation Studio officially began operating in 2015 with the first batch being a single class for 3D Animation. This studio was established, thanks to Bakti Pendidikan and Djarum Foundation with Autodesk and Sumitomo Mitsui Banking Corporation.
With the help of guidance teachers, students of Raden Umar Said Vocational High School were able to demonstrate their skills through an animated film trailer titled "Pasoa dan Sang Pemberani" which lasted about 2 minutes. The trailer received a standing ovation from the invited guests.
"This is amazing. This trailer started 4 months ago. There are talents in there, they just need the facilities", said Triawan.
The story of Pasoa is expected to introduce values to safeguard Indonesia's biological wealth, while introducing a wealth of traditional tales rooted in Indonesian society. The soundtracks of the 3D animated film were arranged by Isyana Sarasvati, an Indonesian singer. At the inauguration of RUS Animation Studio, Isyana sang the original soundtrack of Pasoa dan Sang Pemberani in front of a live audience.
"Through a Vocational High School quality improvement program that has been initiated since 2012, Djarum Foundation continues to be consistent in producing skilled vocational graduates that are ready to work in high-income jobs, especially in the creative sector industry", said the Program Director of Bakti Pendidikan Djarum Foundation, Primadi H. Serad
Primadi added, this program is not only to prepare skilled personnel for the animation industry, the presence of Raden Umar Said Vocational High School Animated Studio is also to create creative artworks that are able to bring Indonesian local wisdom to all lovers of animated shows worldwide.
The inauguration program was also attended by the Program Manager of The Autodesk Education, Lili Setiawati, Managing Director of Sumitomo Mitsui Banking Corporation, Ryuji Nishisaki, and President Director of Djarum Foundation, Agus Siswanto Wibawa.
Source liputan6.com